FiltaFry exhibits for the first time at INTERGASTRA: Stuttgart, 15-19 February 2020, Hall/Stand: East entrance, RAW23
Pressiteade FiltaFry, Emsbüren, 19.11.2019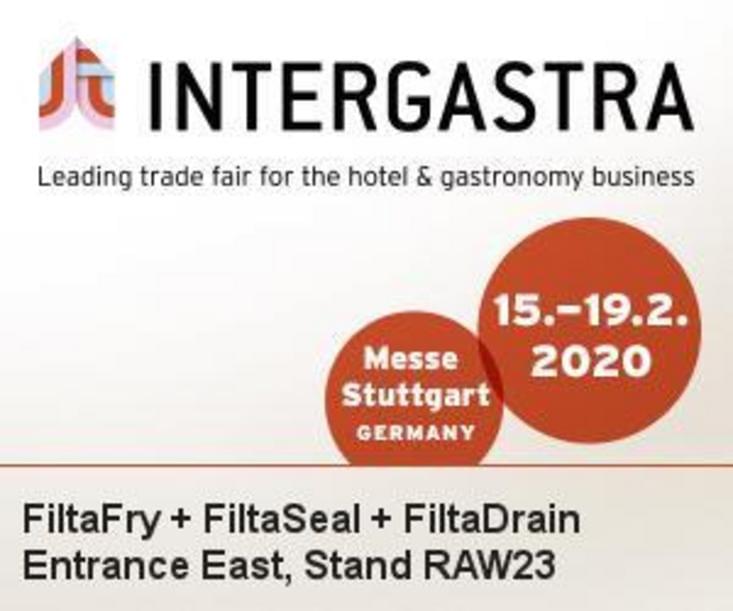 © Foto: FiltaFry
For the first time, mobile fryer service FiltaFry is taking part in the leading trade fair for the hotel and gastronomy business in Stuttgart. It will also debut its entire mobile service programme for more sustainability in commercial kitchens to a larger specialized audience:
FiltaFry – Fryer service: The mobile fryer service includes professional fryer cleaning as well as oil filtration on a micro basis, which saves up to 50% of the oil. FiltaFry also delivers new oil, disposes of waste oil and provides complete documentation. With this unique service, restaurateurs and caterers fry in a more sustainable way and save costs. They always have clean fryers, flawless oil as well as reduce staff workload.
FiltaSeal – Sealing service: The direct replacement of refrigeration seals on site means that the long wait for new seals in commercial kitchens is a thing of the past. FiltaFry replaces damaged or worn seals of all types within a maximum of ten working days, regardless of the manufacturer.
FiltaDrain – Drain service: Probiotic drain cleaning based on bacterial cultures entails no aggressive chemicals. Blockages as well as unpleasant smells are eliminated naturally and in a sustainable way, and the development of fruit flies is prevented.
"While in recent years our focus was primarily on the mobile fryer service, with our additional services - FiltaSeal and FiltaDrain - we will enhance our position as cross-product commercial kitchen specialists in the German-speaking area, as well as throughout Europe.", says FiltaFry Managing Director Jos van Aalst, who brought the franchise company, headquartered in Orlando (US), from the Netherlands to Germany in 2014.
"We are looking forward to feedback from INTEGASTRA visitors and hope to make numerous interesting contacts", says van Aalst. "This Stuttgart trade fair is an excellent platform and a unique opportunity for us and our various services, which cut costs for the hotel and gastronomy business and enable more sustainable economic activity."
---
FiltaFry kohta
FiltaFry on spetsialiseerunud fritüüride haldusele alates 1996. aastast ja tegutseb nüüd mitmes riigis. FiltaFry on olnud Eestis alates 2020 aastast ja on seni ainus teenindusettevõte, mis pakub mobiilse täisteenusena fritüüride haldamist.
---
Laadige pressiteade alla PDF-vormingus